TEC FLANK 2-1 Tailpipe – Scrambler 1200 XE/XC
£166.66
TEC designed and manufactured – 304 Stainless 2-1 tailpipe & silencer system.
Produced for the Scrambler 1200cc XE/XC.
Massive 66.6% weight saving over stock – go from 6.6kg down to 2.2kg!
This system has been designed to increase gas flow, reduce backed-up air, and cool down the cat. So in most cases it is not required to remove the cat or fit an H pipe.
With the Flank installed on a cat front pipe it produces more torque and power (and volume) than fitting an H pipe with the stock silencers.
Sounds fantastic, but not too loud with our specially developed hi-flow baffle system.  Watch the video below for an idea of sound (but best heard in person).
Silencer ends before the rear shocks, giving a much cleaner look to the back end.
The rear heat shield can now be mounted in 2 positions for improved passenger heat protection. This retains the factory-finish heat shields while achieving a meaner, more aggressive style.
Provides better throttle response & gives improved mid-range torque.
Removable baffle system with alternate types available.
Lifetime warranty on your pipework with 12 month warranty on silencer.
All parts including clamps are included in the kit with video instructions to fit to your bike.
Full after care and technical back up from a trusted UK family company.
Designed to perform with or without our other tuning parts for the 1200cc motors.
Works with standard ECU and no re-mapping is required. As these 1200 HP motors are well known for poor low speed lumpiness and stalling due to weak fuelling, we do recommend using a Booster Plug for improved throttle pick up and low speed running. See our Booster Plug listing for more info and video.
Euro 5 models – The Flank will fit Euro 5 models but you must fit the baffle provided with the kit.
Tec Flank 2 - 1 for Scrambler 1200 XE
Loved the look of my slash pipes but even with baffles in the bike just too loud and holes in the torque / power. Had to swap it out so the only real option was the Tec silencer ..... not disappointed! Firstly the service / shipping was top notch and now the bike has more punch and a much more wholesome sound - just right and much nicer to ride, You need to use parts from the original exhaust (rubber bushes etc) which is not explained properly in the instructions .... but I got there eventually. The only thing that would be a welcome addition to the Tec shop is a snugger fitting heat shield rather than re using the original (which makes the system bulkier than it needs to be). Oh and the price point is spot on. Whats not to like!
Flank 2-1
Sounds great, looks great, easy fit, video is a great help
Scrambler 1200 pipes
Fantastic. From being easy to order and extremely fast delivery through to the throaty sound of the new exhaust. Highly recommended product
Tec Flank 2-1 exhaust
I absolutely love the sound of this exhaust.... Baffle out is the most awesome sound if you want everyone for at least a mile to know you're coming 🤣
Baffle in is perfect for me... More than loud enough without being overpowering.
Took me a little while to get no air leaks from the join from the end-can to the pipe.
The online video is perfect as I followed that while putting it together.
I am super happy with it. Thank You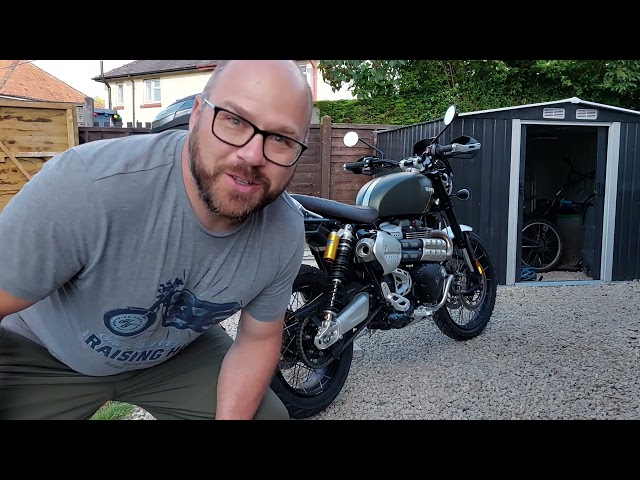 Great product
Fitted really easily sounds great